Return To Blog
Why Effective Communication is Essential in Business
So, I have a BA in theatre. Wow. I know. Crazy. I also a BA in business/marketing. Which is more normal. I guess. Having that combination is odd, I recognize. And I was told this often by my fellow college classmates in both departments. I also generally receive a face of surprise when I state that degree combination. But both areas of study benefit from one another. I think specifically, my theatre degree has fostered the ability for me to know how to understand people, gain an idea of what they want/need, and effectively communicate with them to provide them with their needs.  
Effective communication is essential in business. And the beginning of effective communication is understanding human need. Whether you are communicating within your company or with your clients, you must know what you need and what the person or people you are communicating with also need. This is where it begins. While this may seem like a simple concept, communication becomes clouded and ineffective when there is not a clear objective. Whether a call, email, or text, all communication must have a clear objective: to fulfill a need. 
Here are some highlighted reasons why effective communication is important. 
Create Alignment and Cohesiveness
According to Deloitte, only 23% of executives say that their companies are excellent at aligning employees' goals with corporate purposes. The biggest culprit for such a low number is poor communication. Aligning employees with shared core values and purpose is essential to then effectively communicate the company image and vision to clients. Effective communication within leads to effective outwardncommunication. 
Increase Engagement and Productivity
According to McKinsey, productivity improves by up to 25% in organizations with connected employees. This includes the effective sharing of company updates and vision. If the organization is not connected to its employees and does not encourage feedback, turnover also increases. Clear Company proved that businesses with effective communication are 50% more likely to have lower employee turnover. If the company is engaged as a whole, the company can then engage with its clients. With greater productivity and engagement comes clearer communication.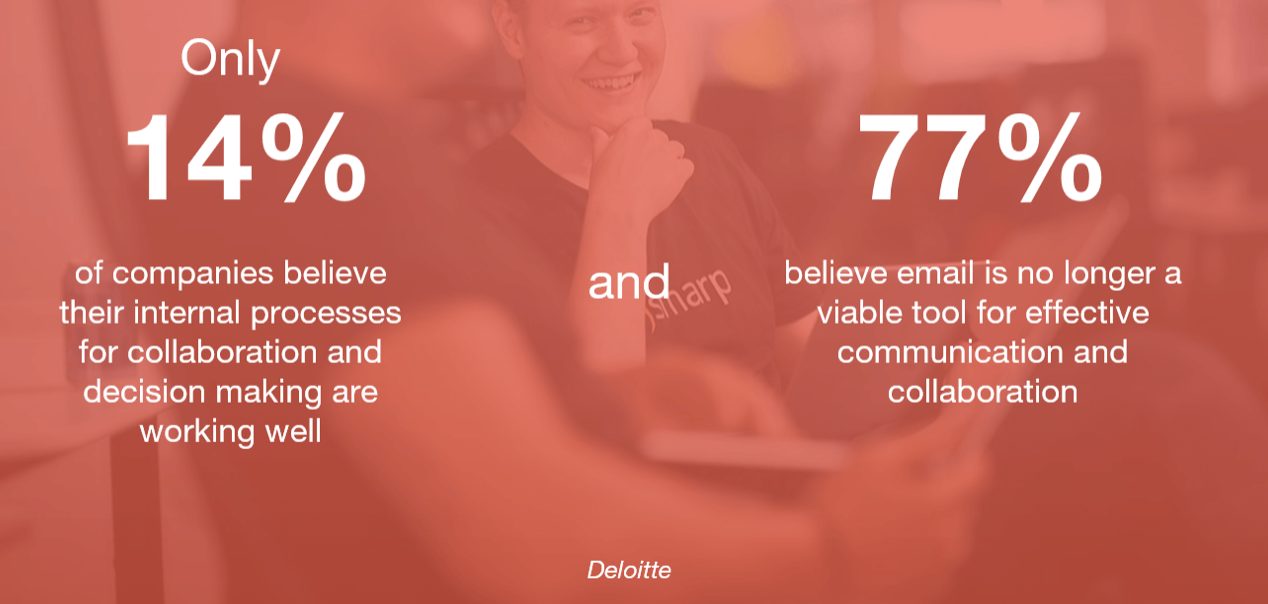 Drive Innovation
Companies with effective communication among teams have workers that are more likely to share their expertise with others in the organization. But, only 14% of companies believe their internal process from collaboration is working well, according to Deloitte. The effect of knowledge sharing is extremely important today when many organizations face big skill gaps among their employees. Organizations in which information flows smoothly and teams collaborate easily, enjoy more workplace innovations. This innovation is important to keep a company alive and provide clients with the best possible services/products. 
So as a company, focus on effective communication and find ways to streamline your process. Understand your needs. And the needs of those you communicate with. You and I are constantly in communication with a variety of people. And it's time companies put more of emphasis on improving their overall effectiveness of communication. 
To read more, check out th

is 

source:
Smarp: "The Importance of Communication in the Workplace (& How to Do It Right)"